Everyday we are surrounded by ongoing change. How we deal with it and what actions we take predicates the outcome. In our experiences of contributing to the lives of thousands, we have found that if you are not satisfied with the outcome in any given area, often the solution to generating the intended results is beyond the level of thinking currently being used and outside of what is known. We are that difference.

Innovation, in our ever-changing world, is the vital key to obtaining better results within organizations, in careers and in our lives.

Innovational Services is a company comprised of highly trained industry experts, career consultants and an experienced team of executive coaches dedicated to "partnering to unlock human potential" within individuals and organizations.

With years of experience, having helped thousands, we partner with our clients every step of the way bringing unmatched capacity in producing breakthrough results. We are firmly committed to having our clients find fulfillment, a greater sense of purpose and self expression in the world of work and in their lives.

"Michael has worked with me as an Executive Coach for over 2 years now. I originally sought his expertise and guidance in order to increase my development as a leader who gets results, while maintaining a balance and ability to flow through multiple roles and responsibilities. Michael has more than exceeded my expectations.
With his consistent and practical expert guidance, I have been able to create a culture of accountability, integrity and loyalty that has led to extraordinary results.
I've also been able to attain a personal way of being that is effective, but balanced. Michael has truly gotten to know me, helped me to build upon my strengths and work directly on those areas that have needed attention and evolution.
I would recommend him and Innovational Services, Inc without reservations to anyone who wants to work with an extraordinary person of integrity and knowledge to achieve extraordinary personal and professional results."
Adam Perlman
AVP Health and Wellness, Duke University Health System
"I want to thank you for the excellent support and coaching you have provided in my career transition. Without a doubt, the networking-centric job search methodology you have developed coupled with the 1:1 insightful coaching you provide is a very powerful combination for any person looking to make a successful career transition. In my case, I cannot say enough about the positive experience I have had with you and the Innovational Services team. You have had a profound impact on helping me see alternatives to the traditional high technology career path I was on and how I could leverage my strengths in other areas. In addition, your ability to connect me with high impact people in your network at the right times during my search certainly made a big difference in allowing me to make a well thought out career decision. Thanks again for all your help and mentorship"
Jay K.
President & CEO
-> read more success stories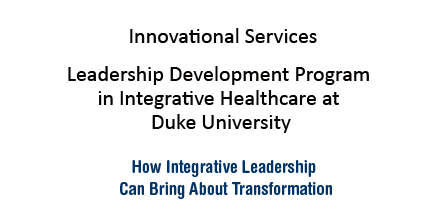 ACKNOWLEDGEMENTS
The authors would like to thank the following people for their valuable review of and/or input into this paper: Michael Aquilino;
Jeff Brantley, MD; Larry Dossey, MD; Mary Pat Duncan;
Aviad Haramati, PhD; Mary Jo Kreitzer, RN, PhD; and Annie Nedrow, MD.
Anne C. Kerns, of Anne Likes Red, Inc., provided graphic design services.

- view Leadership Strategy Team at Duke University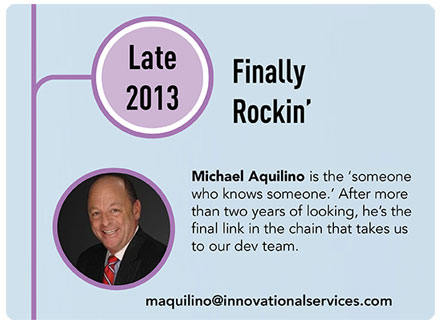 -> scroll down to view SageMyLife Network profiles

Michael C. Aquilino
President & CEO Innovational Services, Proven Results in Career Transition, Executive Coaching, Leadership Development


THE PEBBLE IN THE POND
How Integrative Leadership Can Bring About Transformation
->learn more
EXCELLENCE in PROJECT MANAGEMENT
-> learn more
IS YOUR JOB LARGE ENOUGH for Your Spirit?
-> learn more
"Michael Aquilino has worked with my company for over six years and has led me through a complete transformation of my organization and produce extraordinary results for me by helping me manage my staff, aligning my team behind my mission, helping me select the best people and challenging me to confront and correct self-created obstacles that impede my success. He has been available, present and focused on moving me toward professional and personal fulfillment and success and I highly recommend him for personal and professional coaching."
Mark Hyman, MD
Chairman at The Institute for Functional Medicine
"Ideas, visions, dreams and passions create value and meaning when they can be realized. Michael Aquilino and his team at Innovational Services helped me dig deep into who and what I want to be in the world – in my relationship with myself, my family, my relationships and my work in the world– in a seamless and engaged process that has transformed my thinking, my success and more importantly my well-being. Part business strategist, part-executive coach, part shaman, Michael, gently directed me to the points of breakdown in my thinking and my approach to problems, and obstacles and helped me transform them, while allowing me to realize my visions, dreams and passions. With endless thanks and appreciation."
Mark H.
CEO
-> read more testimonials